Marketing Calendar Planning Service for eCommerce
The secret ingredient to a successful marketing strategy is media planning. With so much on your plate, a calendar makes tracking your marketing activities a piece of cake. Luckily, we've whipped up a recipe for marketing calendars that's "chef's kiss!" But first, let's break down the ingredients that make this process super sweet for eCommerce brands.
A Sweet Way to Plan Your Marketing Strategy
Just like baking, marketing can get messy regardless of how experienced your brand is. To keep your kitchen in order, it's important to have a strategy in place that seamlessly outlines your brand's marketing initiatives month-to-month. 
If you're unfamiliar with marketing calendars, consider this your crash course! Think of a marketing calendar as a "save the date." The goal of a marketing calendar is to ensure you don't miss major brand moments, milestones, holidays, and promotional periods. They adequately plan in advance by prepping your brand for what's to come! So, how do we go about developing a marketing calendar for our eCommerce brands? 
First, we start with your marketing strategy. On our client kickoff call, we'll ask specific questions that will help guide our team in developing a calendar that works for you. These questions are focused on goals, milestones, events and holidays, and any annual promotions. Since these will be the bulk of yearly planning, we focus on hitting these points from the get-go. Next, we work to understand the goals of your brand.
From here, our team begins pulling these key dates together and outlining a calendar for all marketing channels (email, SMS, PPC, paid social, organic social, etc.). This marketing calendar will also include planning for any user experience and landing page needs, such as gift guides, blog content, landing pages, and even reminders to update seasonal messaging. We add it all! 
To ensure we're setting ourselves and our clients up for success, our team budgets the time it takes to prepare marketing materials, get campaigns live, and create assets. We know how fast time flies, so it's important that we leverage calendars to prepare well in advance. From here, we present the finalized marketing calendar to our clients to ensure alignment. 
A marketing calendar functions like a roadmap that will serve as a guide to better planning and organizing. Introducing a marketing calendar into your strategy will also support more cohesion and help your brand reach its short and long-term goals. Some marketing calendar features we include are the ability to update entries, keep tabs on milestones, and track results. 
Our team will save old calendars you've used to learn from what worked and what didn't and apply any successful campaigns to future calendars. This is crucial for developing calendars in the future to keep promotions that performed well and cut others that underwhelmed. 
Marketing calendars are a sweet way to prioritize marketing and business goals in a calendar year. We at CAKE believe that a plan plus a calendar equals guaranteed success! We also recommend marketing calendars because they build alignment between cross-department teams and across channels, supporting advanced planning to avoid the frantic scramble that comes with any unexpected surprises. Essentially, they keep your brand on track.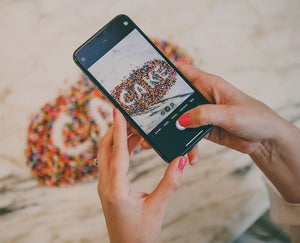 A Few Flavors to Sample
At CAKE, we're all about finding what works best for you. So, whether you prefer sweet or savory, we have a few flavors that work to your brand's taste. There are a few types of marketing calendars, and together we'll choose the option that best suits your brand. The calendar we go with will depend on a few factors, like time of year or season and your unique goals. 
Communication calendars can be used to outline message flighting, cadences, and important dates. These are especially useful for eCommerce brands trying to drive their direct-to-consumer (DTC) sales. We especially like to use communication calendars for our clients during the holiday season. During this busy time of year, they are a great tool for tracking the perfect time to get those gift guides up and running, when your promos are live, and when to create content and assets.
Editorial calendars are another option. These can be used to plan out and track content, promotional channels, authors, and (most importantly) publish dates. We also can get pretty granular and leverage these calendars for email marketing, content creation, and social media marketing, too!
Our Team Is Here to Make Calendar Planning a Cake Walk!
Every layer of cake needs a little internal support to stand tall. That's why our team of digital marketing experts is here to make this calendar year a smooth one. We at CakeCommerce work to understand your brand's marketing and business goals and funnel them all into a marketing calendar to help you prioritize and plan effectively. To get started designing a marketing strategy and calendar that promises success, reach out to our team!