Instagram Marketing Services
As an eCommerce brand, you already know that you should be using Instagram to market your business. After all, it is one of the most popular social media platforms on the web. However, if you're new to digital marketing, this can sometimes be much easier said than done.
Hashtags? Followers? Posts? Paid ads? Shopping? If these terms send you into a sugar rush of confusion, don't worry. Our team at CAKE is ready to help you with all things IG, including paid advertising campaigns, best practices, and numerous other social media marketing tactics that are proven to work.
Simply put, we're fanatics about all things shopping and social. We want to see your eCommerce brand succeed and are excited to work with you to meet all of your sales and digital marketing goals.
What Are Instagram Marketing Services?
If you're looking to find someone to help you with your social media presence, it might be a good idea to work with a digital marketing agency that specializes in Instagram marketing services.

What this means is someone who knows Instagram best practices and has a knack for utilizing the platform's top eCommerce features. They should also have a talent for graphic design and understand the best ways to create posts that sparkle and shine.

Any quality social media marketing agency you hire to help you with your Instagram marketing must also be fully transparent with results. They should give you accurate data reporting that doesn't sugarcoat the truth, which will give you the ability to make decisions about campaigns on this very popular platform.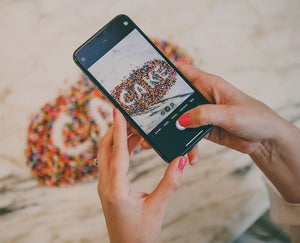 How Instagram Advertising Can Help You Build Your eCommerce Brand
There are numerous ways advertising on Instagram can help you grow your online store. A few of the most common include:
• Brand Recognition: Potential shoppers will know all about your brand, what you offer, and what sets you apart from the competition by looking at your Instagram page.
• Multimedia Marketing: Instagram video ads are a great way to show customers how to use a product or the benefits of buying from your online store.
• Increased Customer Retention: Use remarketing to help catch the attention of past customers and remind them why they love purchasing from your brand.
• Special Offers: Get in touch with past and future customers by offering specials just for Instagram followers and those who view your paid ads on the platform.
Whether you're just looking to boost brand awareness or retain current customers, Instagram ads are a great way to go. Top benefits include larger average order value (AOV), increased email marketing signups, and more.
Using a Social Commerce Agency for Instagram Campaigns
Working with a social commerce agency is a great way to grow your Instagram following, create brand awareness, and make more sales for your eCommerce business. However, not all digital marketing companies are alike.
Before hiring help for your Instagram advertising campaigns, you want to find someone who can provide clear and positive guidance on the best ways to market your brand on this visually heavy platform.
It is also crucial to hire an Instagram agency that provides an omnichannel approach. Finding the right marketing mix for your business requires a multitude of different platforms working together in sweet harmony. If your agency only wants to do Instagram and isn't considering other options to coordinate campaigns, then you might need to find someone else to fulfill your needs.
Contact Us
Proud to Be Your Trusted Instagram Experts
At CAKE, we're proud to be a full-service digital marketing agency that works with online stores. As one of the best Instagram eCommerce agencies around, our team is dedicated to helping our customers create successful campaigns that increase brand awareness and provide a positive ROI.
Are you ready to learn more about our Instagram marketing services? Please contact our CAKE team today for further details.