Cambridge® Home Case Study
Digital Results of eCommerce Success

Average monthly site revenue growth of 38%

Organic Search Revenue increased 1780%

Paid Search revenue up 985% since strategy kicked off

Sitewide revenue increased 909%
About Cambridge® home
Cambridge® is a family-run business for three generations now dedicated to perfecting the art of exceptional style, quality, and value in home and tabletop accessories. They're an industry leader in design and innovation for serveware, stemware, and other tabletop accessories. While offering design-forward products with innovative styles and finishes, Cambridge® is also known for providing high-quality products at accessible prices. They believe that stylish home accessories can be an affordable luxury for everyone.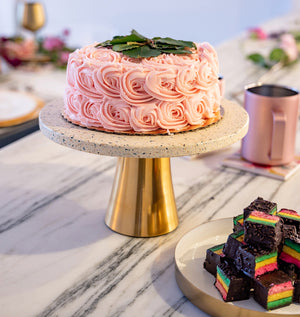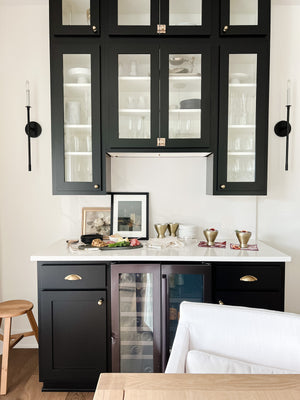 The Results
• Average monthly site growth of 38% during the first 6 months
• 30% Click Share on our campaigns in the first 90 days
• Paid Search efforts made up 35% of site traffic
• Sitewide revenue increased 82%
• Large increases in the top overall keyword spot as well as top 10 and top 50 keywords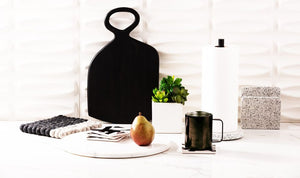 Whipping Up the Perfect Mix for a Luxe Brand
Our strategists at CAKE were in for a sweet treat when Cambridge® home came to us looking to improve their brand strategies. Cambridge® initially started as a wholesaler, where consumers could only find their products in stores such as Kohl's, Walmart, and Wayfair. The main challenge was communicating to consumers that Cambridge® was now available direct for the first time in company history. 
Cambridge® needed to redefine its brand within this market. Their recognizable name of Cambridge® Silversmiths was moving to Cambridge® home – allowing the brand to highlight its exclusive collections and expansion beyond flatware into home categories like serveware, barware, coasters, and other entertaining essentials.
The first (and obvious) ingredient we thought to add on the paid media side was a multi-channel effort focusing on two main layers of the marketing funnel. We leveraged paid social channels (Facebook, Instagram, Pinterest, and YouTube) to reach unexposed audiences who would be interested in the Cambridge® products. In addition, we created a paid search campaign to capture the already existing demand from the wholesale side to convert these potential consumers to the direct site. 
Within the first 90 days, these campaigns had extreme reach: Facebook and Instagram had a unique reach of 910,968 with a daily reach of ~10,100 people. Pinterest had a unique daily reach of ~3,500 people, while YouTube had a unique daily reach of ~4,300 people. What's sweet about these results is that each platform had a low cost per reach.
Another part of our recipe included paid search ads, where we focused campaigns on branded terms only. Because there was already a high search volume for the Cambridge® brand, consumers were already searching and shopping via retailers. To improve things, we added Cambridge®'s DTC site into the already existing SERPs for Cambridge® products, allowing us to tap into existing demand and stand out from retailers with "Now Available Online Direct" messaging. 
These campaigns exceeded expectations from the jump, as we ended up with a 30% click share on our campaigns in the first 90 days. One in every three paid clicks was on Cambridge®'s DTC site – which significantly disrupted the retailer campaigns. The campaigns averaged 100 clicks a day and boosted the DTC site's visibility, as paid search made up 35% of site traffic. 
Paid search also had a significant impact on helping the brand see revenue success in the first 90 days, as it directly drove 71% of all revenue seen during that period. 
Now for the job of our SEO strategists – they focused on delivering quality tag work throughout the site. By generating optimized tags through keyword research and search trends, we were able to bring substantial increases in the number of keywords and other important metrics. We also increased on-page optimization in the form of blogs and gift guides and accommodated the seasons and holidays that would follow.
Post-90 Day Launch Period
After 90 days, we shifted more efforts down the funnel to help convert those now-aware consumers into purchasers. We did this by layering conversion driving efforts to our social media campaigns and rebuffing our retargeting efforts with dynamic programmatic ads. 
Like any good recipe, preparation is needed. To get ourselves set up for launch success, we began by outlining a yearly communications calendar that encompassed all of the necessary initiatives to be completed for all digital channels. These tasks included building out all automated flows for email and SMS marketing, outlining UX design recommendations for the website, building a brand story, PPC, paid social creative and account setup, and content calendars for organic social and blogs. 
For Facebook and Instagram, we added conversion layers that targeted all the reached consumers in the launch campaigns. We then shifted messaging to product highlights to engage consumers to visit the site and explore products. This led to solid performance in product views data from paid social. There were 8,807 clicks made to the site post 90 days, 5,451 total products viewed, and 26% of the clicks to the website viewed a product.
The paid search efforts (conversely to social efforts) were expanded up the funnel to include non-branded efforts to reach new searchers across the web. These brought in a low volume of traffic, but 92% of that traffic was new to the site, which helped expand the reach of Cambridge®'s DTC site. These efforts also saw great engagement numbers as they were heavily viewing products. Speaking of sweet success – the non-branded campaign resulted in a total of 7,050 clicks to the site, 57% of those clicks viewed a product, and a total of 5,451 products were viewed. 
Lastly, we added in a dash of dynamic product retargeting campaigns. This was introduced to help boost returning customer sales and ensure that Cambridge® stayed top of mind for consumers who visited the site and did not purchase. Since launching these efforts, sitewide revenue increased 82%, and we achieved our goal of increasing returning site-visitor revenue by 62%. 
Since implementing the SEO optimizations, we have seen organic new users increase monthly by 840% since the first month and over 600% in overall organic users. The growth in branded and non-branded keywords has been strong, with significant increases in the top overall keyword spot and top 10 and top 50 keywords.
For user experience, the Cambridge® site had launched with and maintained the same homepage layout from April to December 2021. But, to improve, our experts' recommended swapping the collection category circles with product categories and adding a best sellers row on the homepage for new customers. For the first couple weeks of 2022, we saw bounce rate decrease by 10%, conversion rate increase by 133%, page value increase by 111%, pages per session increase by 10%, and average session duration increase by 11%. Pretty sweet results, right?