Have a Slice of Success

eCommerce CVR increased by 578.95%

Organic search visibility grew by 117.66%.

Online Transactions increased by 427%.

eCommerce Revenue grew by 300%.
About Bellefixe
Bellefixe is a hair accessories brand that offers quality products at affordable prices. With new collections dropping every four to six weeks, Bellefixe is always on top of the latest hair accessory and styling trends, providing new styles to customers regularly. From the Belle Basics for everyday wear to high-fashion and trending hair accessories, seasonal and holiday collections, wedding styles, and more, Bellefixe's headbands, scrunchies, clips, and hair ties are always in style.

In addition to being dedicated to designing on-trend and affordable products, Bellefixe is passionate about creating superior content that spotlights the brand as an industry leader in all things hair accessories, from how-to styles to top trends. They create their content to reach fashion-forward audiences and launch competitive promotions to outshine competitors and keep customers engaged.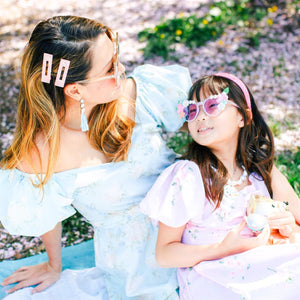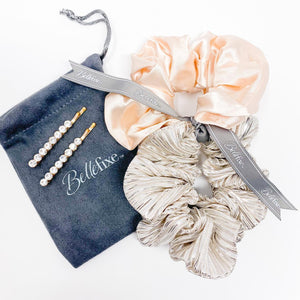 Rich Results
• New users increased by 183%
• Site bounce rate decreased by 15% over two months
• Overall page value increased by 43.68% over two months
• Conversion rate increased by 48.99% over two months
• Year over year (YoY) conversion rate is up by 163%
• Mailing list grew by 347%
Our Super Sweet Services
• SEO
• Paid Search
• Paid Social
• UX Support
• Development Support
• Creative Support
• Amazon Paid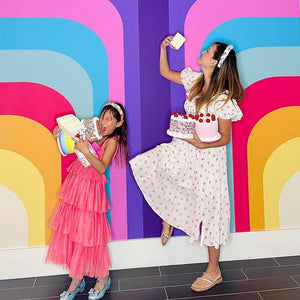 The Recipe for Success
With their commitment to quality content and drive to present themselves to customers as an industry leader in all things hair accessories, Bellefixe left their former agency and came to CakeCommerce with the hopes of developing a stronger audience-targeting strategy. Their greatest challenge was finding the right audience and creating the best-performing conversion funnel. 
While they saw a few moments of success before partnering with CAKE, the team at Bellefixe struggled to translate one thing to the next and develop a strategy that delivered more seamless, consistent success. One reason for this was that Bellefixe was "casting too wide a net," or, in other words, using one set of creatives to target a large, diverse audience. Because there is no one-size-fits-all marketing strategy, Bellefixe needed to diversify its creative approach to target smaller pools of potential customers more precisely.  
Despite these challenges, CAKE was prepared to offer superior eCommerce marketing services that would make Bellefixe a top-tier brand!
The CAKE team worked diligently alongside Bellefixe to develop a marketing strategy to meet their unique needs. In June of 2021, Bellefixe's eComm rate was .38%. By focusing on higher funnel tactics (such as promoted layer, reach, and lead generation), CAKE helped Bellefixe drastically increase this rate over six months. 
The strategy that supported this growth involved creating a loyal, intent audience by promoting organic content that encouraged saves and shaves. This helped build an engaged audience and increased Bellefixe's eComm conversion rate to 2.58% by the end of Q4 the same year.
Along with that growth, Bellefixe also saw a 427% increase in transactions and 300% growth in revenue. The CAKE team's SEO efforts were also able to grow new users by 183%. 
CAKE also assessed any content experiencing a high rate of saves and used this content to create evergreen ads that ran to users within the conversion campaign. Knowing that these organic posts were already resonating with the current audiences, the CakeCommere team strategized that these ads would drive users to purchase and saw great success.

CAKE's paid social efforts proved to be incredibly beneficial for Bellefixe. They helped build their brand and audience on social channels, showing immense returns for the brand and acting as a testament to the importance of a full-funnel approach and holistic methods implemented. Within the lead generation layer alone, CakeCommerce's marketing strategy promoted 368 newsletter sign-ups. And, looking at the previous period, Bellefixe saw a 347% growth in email while running paid social lead generation ads. 
With cost-per impressions (CPMs) on the rise, CAKE also tested reach campaigns with the hopes of helping Bellefixe reach new audiences and drive them into the buyer funnel at a lower CPM. The results showed that CPMs dropped to 807% lower than the conversion campaign and 207% lower than the promoted campaign within just three weeks of being live. This was especially impressive given this occurred during a seasonal period where CPMs increased 30% year over year. 
Within this reach campaign, only the top-performing ad creative and promotions were used to bring on-site goals awareness. Although first-time visitors would not convert immediately, they were added into the buyer funnel, which kick-started serving these users conversion ads more frequently, turning into purchases over time. 
These conversion-driving campaigns helped Bellefixe secure more efficient audiences to boost conversions. Users were then added into the funnel at a lower cost and had converted due to incentives within lead gen ads to become first-time purchases. CAKE then retargeted those first-time purchases within a conversion campaign to continue to create repeat customers. 
CAKE's development team also worked with Bellefixe to execute a series of website optimizations to increase overall site metrics and boost user experience (UX). In mid-October of 2021, CAKE added product cross-sell options and a shipping threshold bar at checkout to entice users to add more to their cart and reach the "free shipping" minimum-spend incentive. Both Bellefixe's homepage and gift guide were optimized by cutting down the amount of scroll time for site visitors, removing content that users were not engaged with, and prioritizing content they interact with. 
The team also optimized Bellefixe's navigation to narrow down the tabs users engaged with, re-organize the layout, and add enticing menu options as a best practice. 
The icing on the cake: From mid-October to mid-November of 2021, the overall site bounce rate decreased by 15%, while the overall page value increased by 43.68%. Site sessions also increased by 24.44%, average session duration grew by 10.38%, revenue increased by 97.89%, and conversion rate increased by 48.99%.