A Taste of Success

Whitelisted content drove the highest click-through-rate average of 4.33%

Whitelisted content generated 1,162 saves and 523 shares

Holistic revenue growth and direct revenue growth

In three months, 60% of the revenue came from whitelisted content

About ANY DI
Meet ANY DI: where fashion meets function for more hands-free moments. Based in Munich, Germany, ANY DI's high-fashion, cutting-edge accessories keep all your essentials accessible, protected, and always in reach. Perfect for those who are always on the go and never have enough hands, they function to keep all your essentials accessible and protected. From their avant-garde SunCover to the ultramodern and uber-trendy PhoneStrap combos, ANY DI's distinct, innovative, and patent design is changing the world of fashion.

Designed to keep your everyday essentials right where you need them, these contemporary accessories are the perfect blend of functionality and style.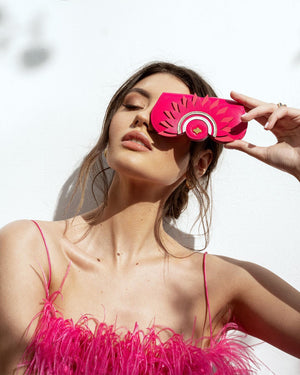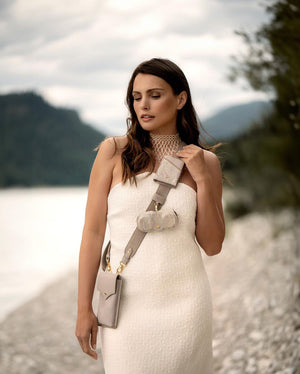 The Results
• Paid social (with replicating dynamic product carousel ads) and sponsored influencer content drove 40% of the total Meta revenue
• 300% increase in revenue within just one and a half months
• Whitelisted content drove a 4.33% average click-through rate (CTR)
• Whitelisted content received 1,162 saves and 523 shares
• Cost-per-interactions on #paid exceeded platform averages by over 3000%
• The engagement rate exceeded platform averages by 112%

Sweet Services Served On a Silver Platter
• Paid Social
• Influencer Marketing
• Whitelisting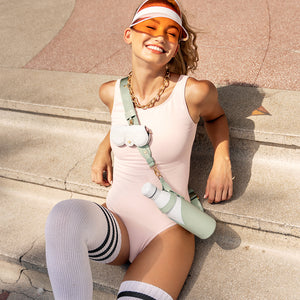 CAKE's Top-Tier Approach
ANY DI came to CAKE with a very clear goal: to advertise their European-made products to shoppers in the United States. To help the brand break out into this new market and establish themselves in the U.S.'s high-fashion marketplace, we first needed to assess the competition. ANY DI had quite a few competitors that were already very well-known in the American fashion industry and driving the main market share.
To ensure ANY DI shared in a slice of this cake, our goal was to develop a strategy that focused on their differentiators. Simply put, what unique flavors did ANY DI offer that no other brand like theirs (within the American high-fashion marketplace) does? The challenge befell CAKE's paid social team, who established ANY DI needed a Meta page to leverage their brand's voice and grow their presence in the social advertising space. 
We approached paid social not as a direct revenue driver but as an essential piece of ANY DI's holistic brand growth (for example, running paid social and leveraging influencer content drove 40% of the total Meta – formerly Facebook – revenue). While the client had previously run ads from November 2021 to March 2022, they did not own any of their assets. As a result, our team had to whip up a new Business Manager and Google Analytics account. Without any historical data to drive our efforts, we were baking our strategy from scratch! 
Another challenge we faced came from sharing the main brand page with ANY DI's Euro team, which meant some of the backend ad types would not be applicable to our U.S. efforts, such as using the catalog. Additionally, the paid social team experienced some inconsistencies within the core demographic. Essentially, what worked in Europe would not necessarily work in the U.S.
Our team also taste-tested influencer content. A much more natural and organic way to market products – as opposed to branded content, which can often feel overly promoted and "salesy" – influencer marketing showed sweet results for ANY DI. The brand had previously worked with influencers in Europe. However, ANY DI's influencer content featured primarily educational product walk-throughs. Most of their former influencer content was super polished and catalog-worthy. With user-generated content and a demand for authenticity at an all-time high in the U.S., we needed to zhush up ANY DI's influencer marketing strategy to appeal to the tastes of American audiences. 
Organically speaking, influencer content also exceeded expectations. An average cost per interaction (CPI) on #paid starts at $1.00. ANY DI experienced a $0.03 CPI, which exceeded platform averages by over 3000%. The brand also saw an engagement rate of 2.50%, which is 112% above average (the average sponsored influencer post receives an engagement rate of 1.18% on Instagram). Some influencers even exceeded their own average engagement rates, which is a very rare occurrence in sponsored posts (typically, they are expected to perform anywhere from 20% to 50% worse than the influencer's average).
With a little elbow grease, our chef's kiss strategy provided brand awareness and authenticity, making ANY DI's name a top-tier brand among U.S. shoppers. How did we do it? Whitelisting! Our team whitelisted influencer content from the ads manager backend. What does this mean, exactly? Essentially, we promoted the content much more authentically through influencers' personal handles, so the ad appears to users natively. 
This builds more trust between the influencer, the product, and the consumer. Consumers view this whitelisted content and think, "WOW, [influencer so and so] is sponsoring this product – they must really love it!" Promoting products in partnership with a brand, on the other hand, feels a lot more like branded content where the "in partnership with ANI Di" would actually be watermarked on the ad itself, which can feel somewhat phony.
When we started to whitelist the U.S. influencers through Meta's backend, within one and a half months, we saw almost a 300% increase in revenue. Not only did we see great holistic revenue growth, but we also saw direct revenue associated with our whitelisting efforts. 
Because of CAKE's experience with fashion brands, we knew that catalog ads tend to be a big revenue driver on paid social, and, in general, whitelisted ads through influencer handles lead to higher conversion rates. To try and replicate using the catalog, we created product and lifestyle carousel ads that would entice users to the product landing pages. This significantly supported conversions both in-platform and direct through Google Analytics. 
In terms of non-revenue key performance indicators (KPIs), whitelisted content drove the highest click-through rate with a 4.33% average (2.44% specifically from the purchase objective and 5.37% from the website traffic event for landing page views). They also received the highest share and save engagement: 1,162 saves and 523 shares, whereas evergreen content (like promos, Euro influencers, new arrivals, and educational how-to videos) only drove 704 saves and 203 shares. 
Ready to see your brand 'rise' to its full potential? Whip up a top-tier marketing strategy with CAKE!